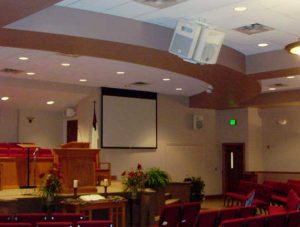 With over 40 years experience in the sound, video, and lighting business I opened Sound Solutions in 2005. Of those 25 years, 17 of them were spent as the lead audio tech for the Greenbrier Hotel in White Sulphur Springs WV. While at that position I had the opportunity to work with some of this country's most influential business leaders, politicians, and entertainers. More importantly, I learned the technical knowledge needed for this business and that customer satisfaction is the key to success. This experience translated to the house of worship market, clear intelligible public speaking, balanced live music, and video that helps to communicate the message, this all applies to a church AV system.
If you or your church has a need for professional audio, video, or lighting equipment please contact us. We offer creative audio visual solutions that are cost effective as well as user friendly.
Our Goals
Sound Solutions is dedicated to providing our customers with high quality, reliable, cost effective, and user friendly solutions for their audio and video needs.